Calvary Church of the Nazarene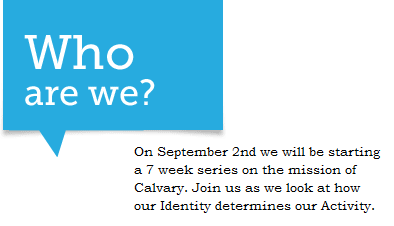 Who are we?
Our Mission:
Calvary Church exists to Glorify God by…
Reaching our world with the Gospel
Teaching the Word with its message of holiness
Sharing Christian fellowship
Ministering to needs of others
Worshiping God through love and devotion
"…so that we may present [people] complete in Christ."
(Col. 1:28 NAS)

Posted: March 08

Join us this week as we look at Jesus' claim to being the true vine. Our ability to bear fruit as branches depends on our being connected to that True Vine!
Posted: February 23
Our Clothes Closet distribution is tomorrow from 10a-2p with lunch from noon to 1. If you live in Crestwood or in one of surrounding communities and have clothing needs please come by and see us!
| | |
| --- | --- |
| | 1 comment |
Posted: February 23

Join us this week as we look at the story of a man born blind and his encounter with Jesus. His life was radically changed by the one who said, "I am the light of the world." #light #darkness #blind #sight #journeythroughjohn
More Info
Address: 5536 W 131st St
Crestwood, IL 60418
Phone: (708) 597-6122